Quality Products
High quality products that are ethically and locally produced (Not to mention delicious!). Shop it, Love it!
SHOP ALBUCOFFEE PRODUCTS
Just Delicious
Watermelon Mountains has quickly become my favorite blend.
Meep Meep
The bold Roadrunner Blend definitely gets me up and going for the day!
Burque in the UK
I love the culture in New Mexico so much, and I love that I can order a part of New Mexico and have it delivered all the way to the UK.
I love Piñon
The Pueblo Piñon is my favorite. The taste is rich and flavorful, only in NM can you find treasures like this!
Southwest Sunrise
The only thing better than a real SW Sunrise is the taste of this morning blend coffee. Smooth, tasty, and goes perfect with my creamer.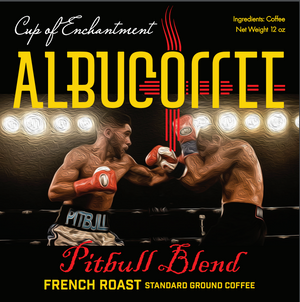 Pitbull Blend, French Roast 12oz Bag
Sale price Price $14.99 Regular price